Part I | Part II | Part III | Part IV | Part V | Part VI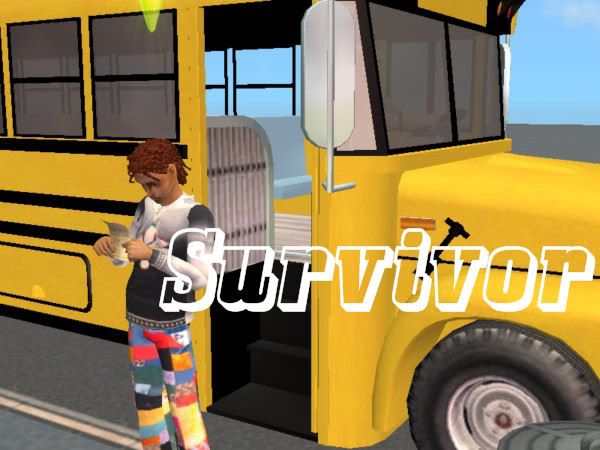 Earlier on Friday of the second week, on the fateful day when Hopeless was taken away by the social worker, Useless came home from school. Once again, his grade was awful and he crumpled his paper.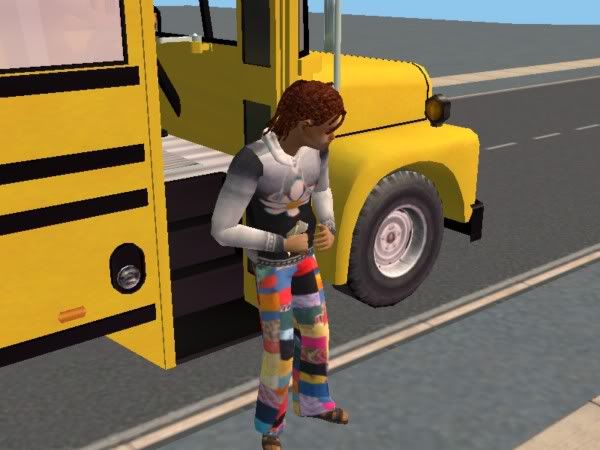 And tossed it on the ground, stomping it under his foot, just as Hopeless did later that day.




Adulthood was only a few days away, and the Omnipresent Voice warned Useless that dire things would happen if he continued to do badly at school.

Useless wants to be successful. He doesn't understand what's happening to him. He cries.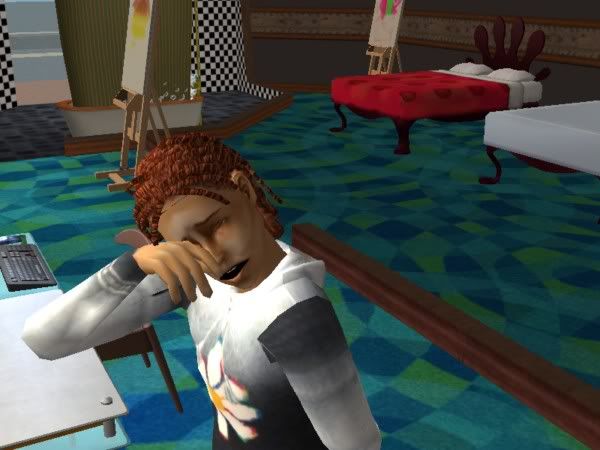 and cries.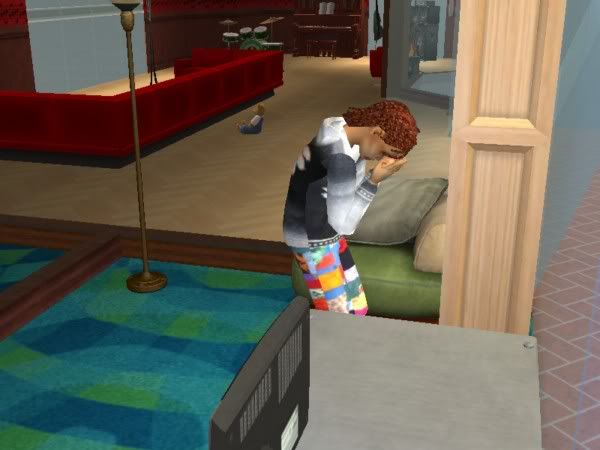 and carries on.




Well, we all want to know exactly what dire things do happen when a sim continues to carry an F at school, so we must persist in following this young man until we know.

He makes the best of it over the weekend. He's happy for Hopeful and Matt when love blossoms.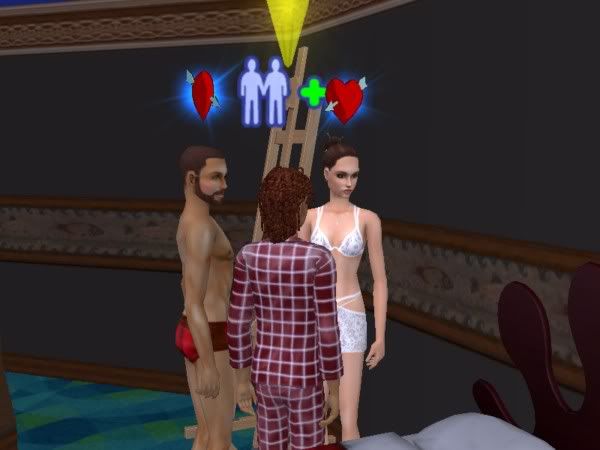 He tries to cheer up Hopeless.




Not to mention Charles Darwin.




He plays music with Hopeful.




He continues to play chess, eat, and sleep, and by Monday morning he is back at school. When he returns, he repeats his actions of the previous Friday, crumpling his grade paper, stacking up his homework, and crying. Tuesday dawns. Useless' last day as a teen. He goes to school as usual.




And returns...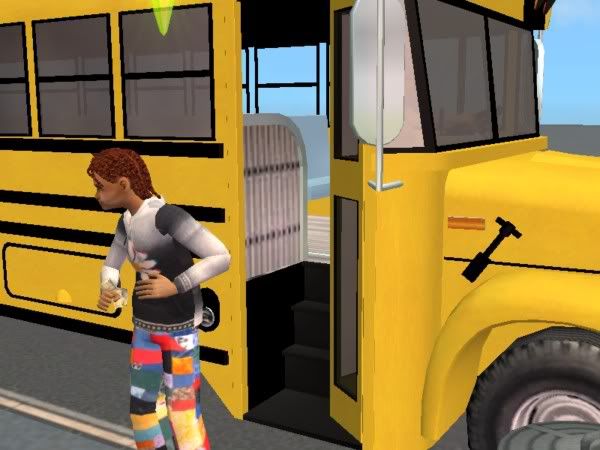 He has become so used to the routine by now that he heads for the bathroom and then takes out his diary.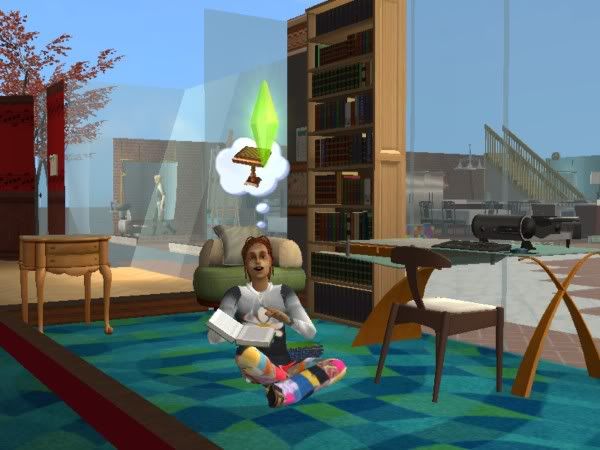 Just behind him on the floor is his stack of homework. He writes of how much he likes chess. He writes about watching television. He doesn't write of his grades.

That evening, while nobody is watching (including The Creator), he quietly turns into an adult. An adult very like his teen self, only more conservatively dressed.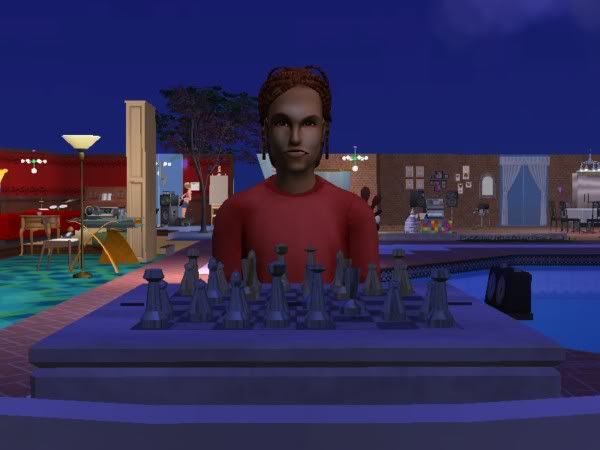 You can save your comments on the dreads for later.

Not only did he "grow up well", but look...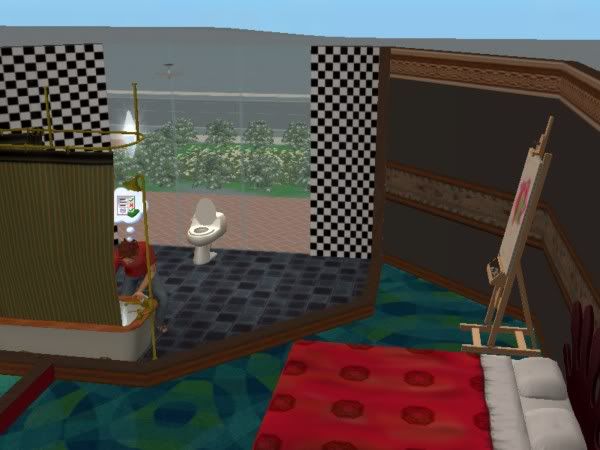 He "completed freshman year"!! How that happened, especially with his failing high school grades, is a sim mystery. Of course he will never get beyond freshman, but if it makes him feel good, then we feel good.

His lifetime want is to have 20 simultaneous best friends. That's a tall order and unlikely to be filled in these circumstances, but he's a postive-thinking sim, and with his niceness who knows? He starts his adult life admiring his roommates.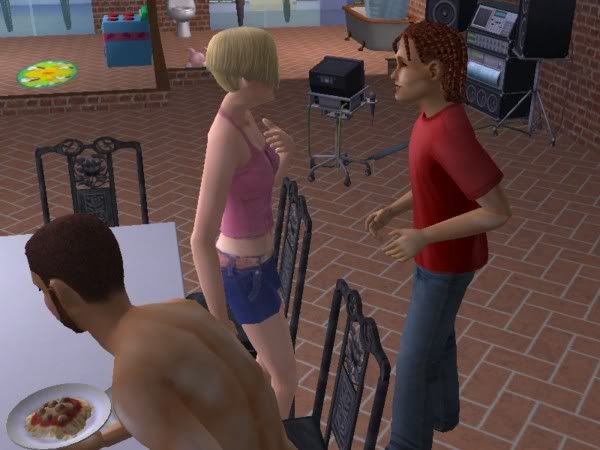 And how are those roomies doing, you ask? We'll find out next time!