I got kicked out of the pool this morning by the aqua aerobics class. I was watching them gather in the pool while I was still in the water, and I thought about taking underwater pictures of them, mostly women, older and fatter types. I could belong to the Pismo Fat Ladies Exercise Club if there were one.

I didn't have my camera with me in the locker room, of course (although now I'm seriously thinking I might bring it in the future). So I took these pix from outside, through the glass.The reflections make the pics funnier, I think. What you don't see is how many people are in that pool. There were twenty when I climbed out, and more were flocking to the pool. So incredibly popular! While I was showering I heard the music,the teacher's directions, the cheering, the counting. And the students were living it up just talking to each other. The social hour.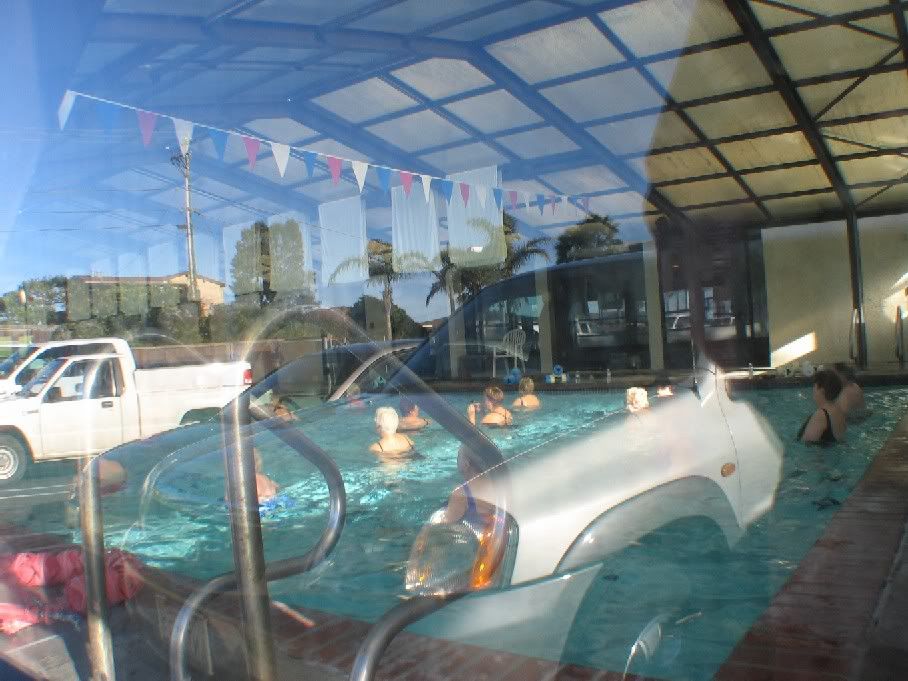 I was shy seven laps (350 yards) of my goal when I got kicked out. I kept dwelling on it, thinking how I might get the laps in later.I didn't like the idea of getting suited up again and showering again afterwards. It's such a production. So I thought I'd trek around downtown a bit instead, because my legs felt pretty good. On my rounds on the downtown streets I saw this display:




It is made of simulated dog tags with pictures of the soldiers who have died in the current Iraq war. It was produced by a new peace group. I was surprised to find it in a store window, even though the store is currently vacant. The owner had to say okay, and I've found that many building owners don't like to take any kind of stand on the war - except to display flags,for example. It pleased me.

In other news, I bought a new blanket and a comforter. Here is the comforter. It is filled with a down alternative and covered with a fake suede-like fabric, in a paisley print. Soft to the touch and warm underneath. I look forward to tonight!