Yesterday I encountered several of my favorite things: rain, highway 1 (between San Simeon and Big Sur), Pink Martini (a band of seriously good musicians), among others. I left the house at about nine. As I was heading toward Morro Bay the sky was clear and beautiful. That is, it held the clouds after a rain.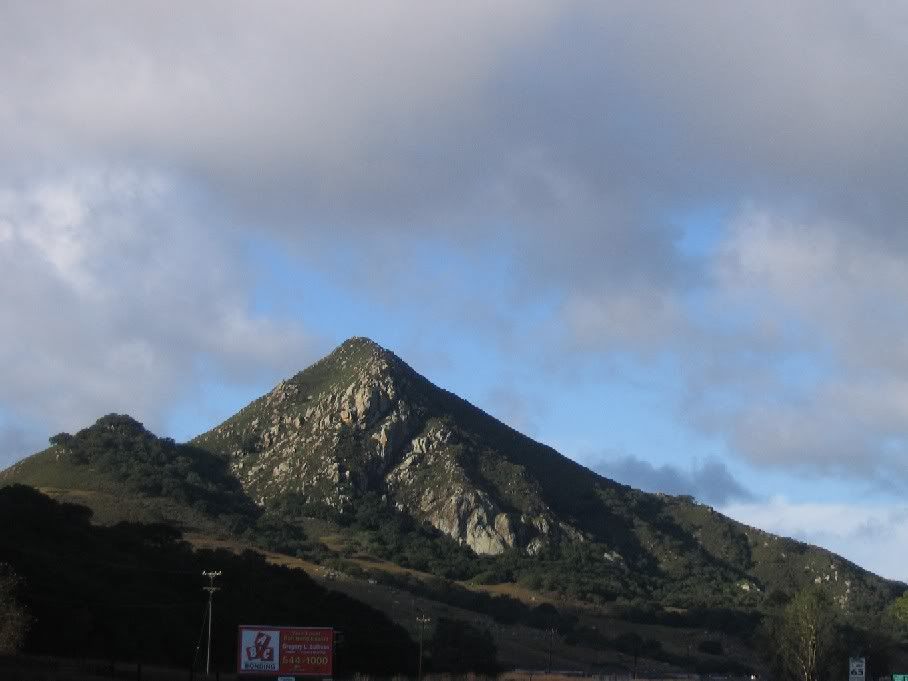 Not far above San Simeon is the area where the elephant seals hang out during winter months, and the females give birth.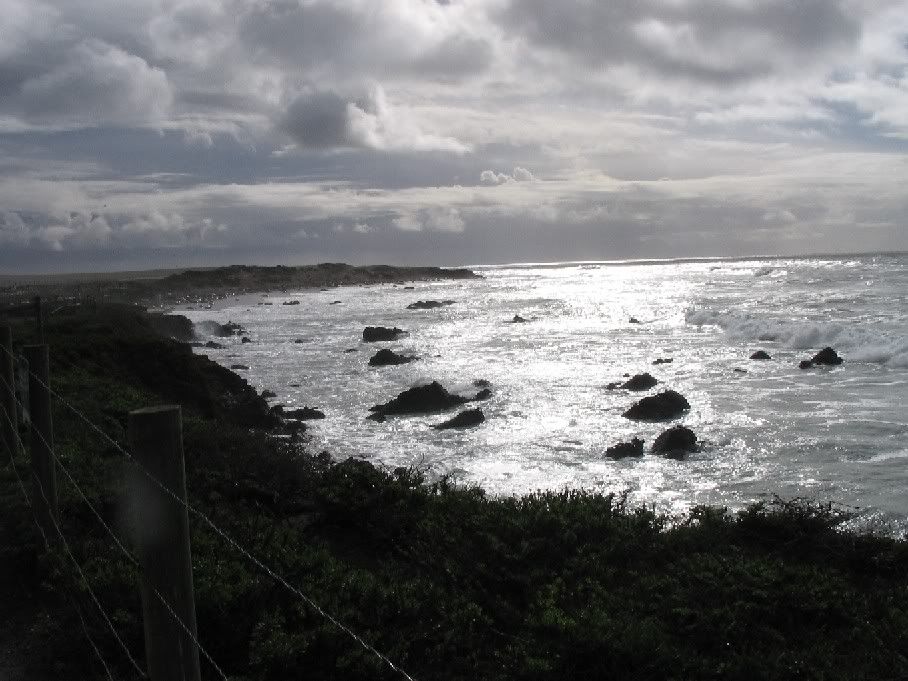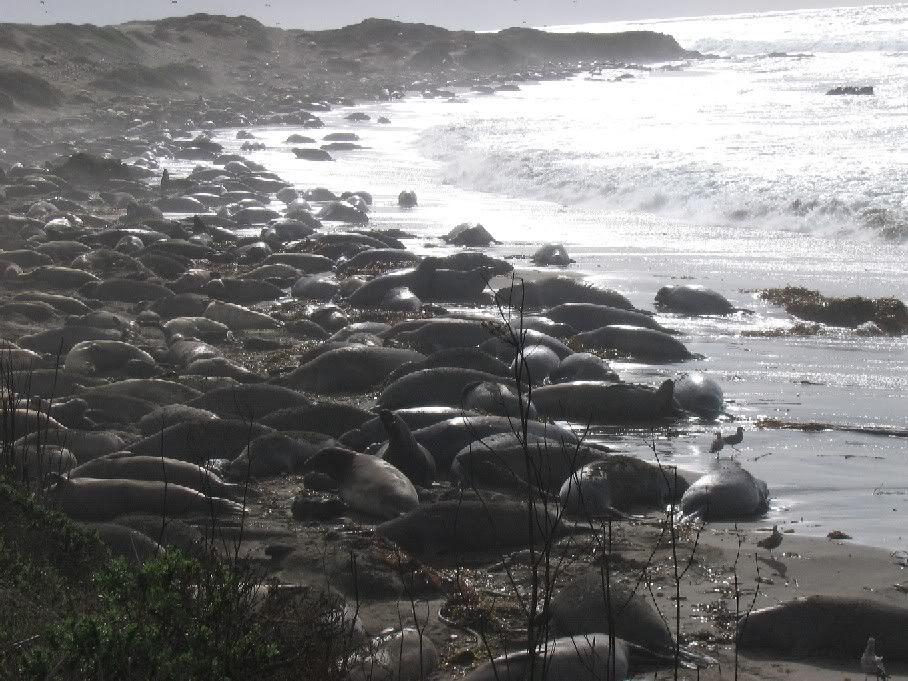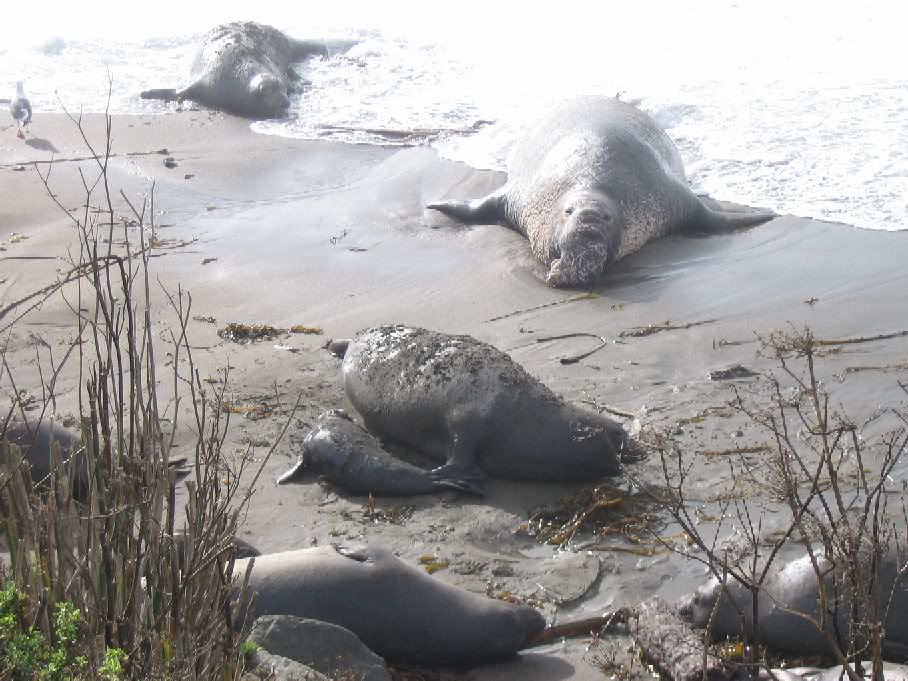 I like to check on their progress several times in the months of December and January, if I remember. This was my second trip this season. Lots of babies, many of them well-grown by now.

The AAA website said there were no delays yesterday but there was a small one, a CalTrans crew clearing fallen rock.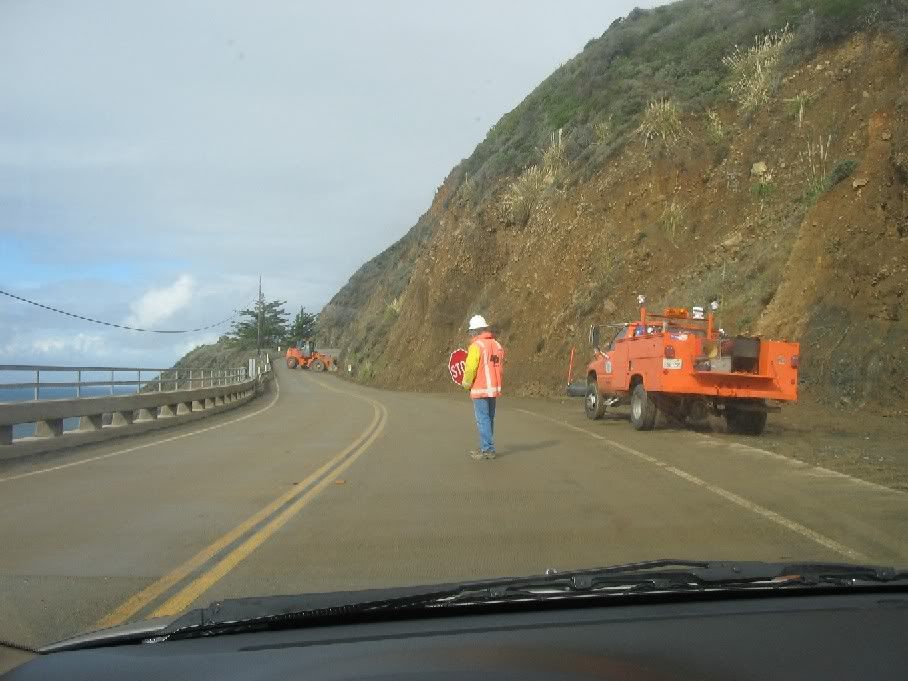 On my way up I saw several crews finishing up and evidence that they'd been in many other locations on the highway. Highway 1 is a full-employment highway for CalTrans. They are ALWAYS there. Have to be.

There are many viewing spots on the way. The day was overlain with a light fogginess, making these views a bit grey. I rather like it that way but it doesn't make for the most spectacular pictures.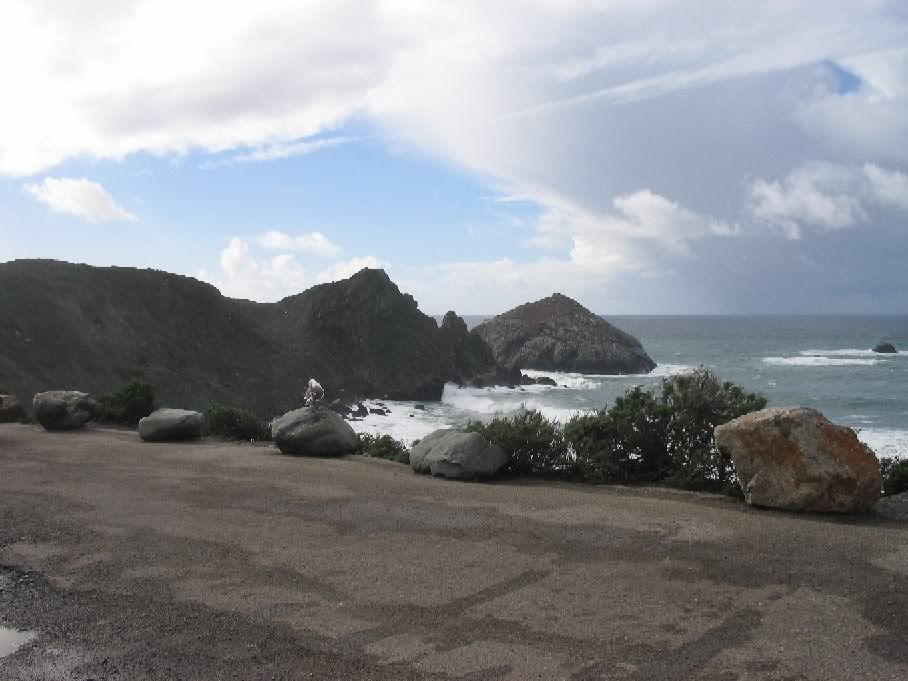 After negotiating many curves, happy that I no longer fear them, I reached the Julia Pfeiffer Burns State Park. I pulled into the parking lot in the rain.

In the restroom at the park was this little vase with bay leaves. The sign tells of the scent and the relationship between the California bay and the European variety that we use for cooking,and points out that when you walk the paths you will likely tread on bay leaves and the fragrance will greet you. A nice addition.




The entrance to the little walk: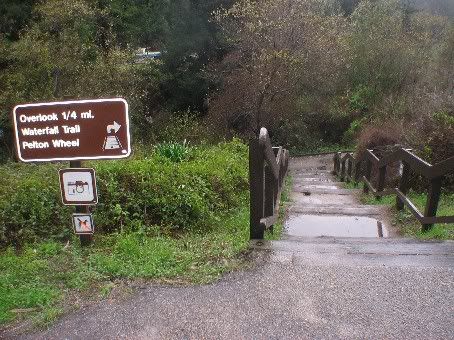 They charge $8 ($7 for senior citizens) for day use here. I felt that my stay would be so short I wouldn't get caught (they accept money through a little box with a slot in it, in which one puts an envelope with your vehicle info on it and the money inside). I don't begrudge the parks system this money and I would gladly have paid it if I were to stay a bit longer, do a real hike. But I was there a bit over fifteen minutes total.

To get to the overlook we go through a tunnel.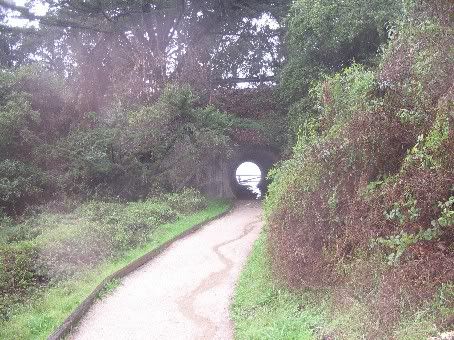 Then the waterfall by the ocean:




In this pic I am overlooking that waterfall.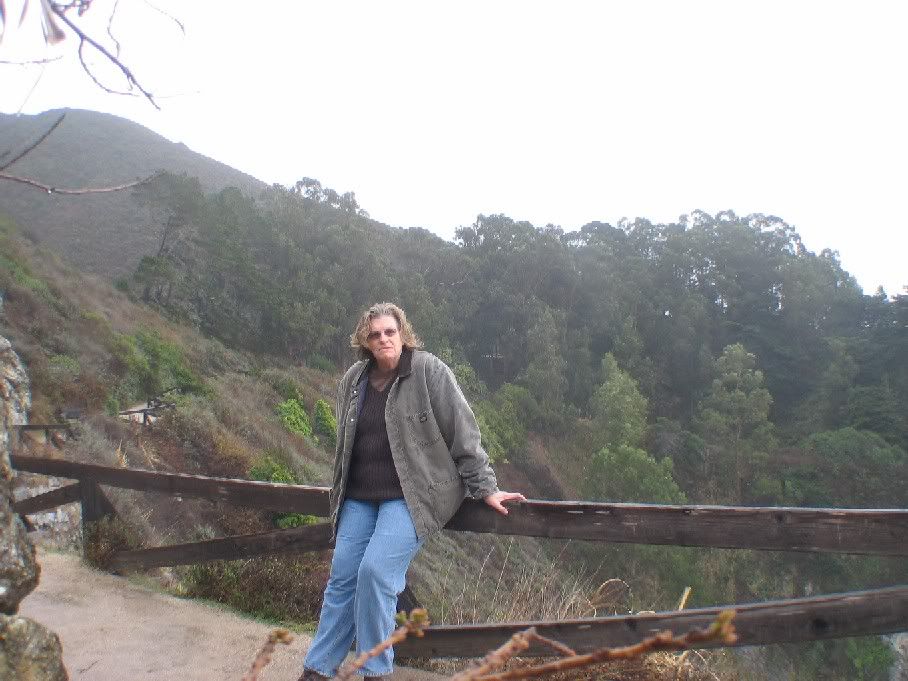 The walkway ends at a lovely overlook. On one side, though, are the remains of some kind of structure: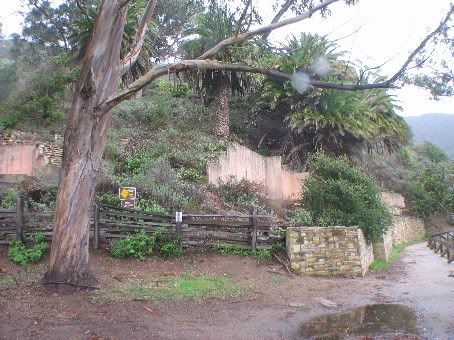 It looked to me like it may have been a house at one time, probably given to the parks system upon the owner's death. I tried to imagine living there, although there is so little left that it was almost sad.

From that location:




and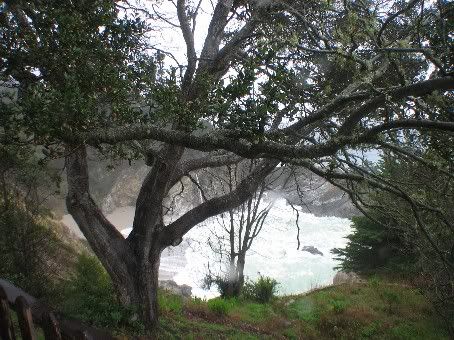 After leaving the park I decided to drive the additional six miles or so to Big Sur and to eat there. After zipping past several options, I turned around and settled on the Big Sur Bakery Cafe.

I pulled into the driveway and wound my way to a parking space. I walked this little path, by this little shop and nursery, to get to the cafe.




All of which is so classically Big Sur. While on the short path I heard the sound of drums, beating out a wonderful rhythm,coming from up the hill. There is, I discovered, a kind of community center there, where yoga and meditation and a number of other new age things go on. I later overheard someone complimenting a young boy on his drumming - could he really have been the one? I didn't find out. If so, the boy has a career. He was so young, maybe eight.

I had a terrific meal: a smooth mushroom soup, homemade (wood-fired) bread, a potato frittata. Inside a small cafe that also offers tempting juice and coffee drinks. I had a cup of Big Sur Roasting coffee to go. I stepped back out on the little porch to see this holiday decoration:




Yes. It's an exercise ball.

I headed south, toward home. It was about two at this time, so I figured I could take Highway 1 back again. I normally leave later in the day and instead choose to return home on highway 101 because taking 1 in the dark is...not that wise.

Much more beauty met me on the way, as well as several shortish rainstorms. As much as I love rain I think I would have been tense if I'd encountered heavy rain all the way down that road. Instead, the weather alternated, just to keep me interested. I passed the seals and Hearst Castle and opted against Cambria for my next stop. Instead, Harmony.

Several years ago enterprising people tried to put Harmony on the map as a place for artisans to work and sell their wares and restaurants to offer good food. For a brief time it tried. But by now it's about given up. The road in: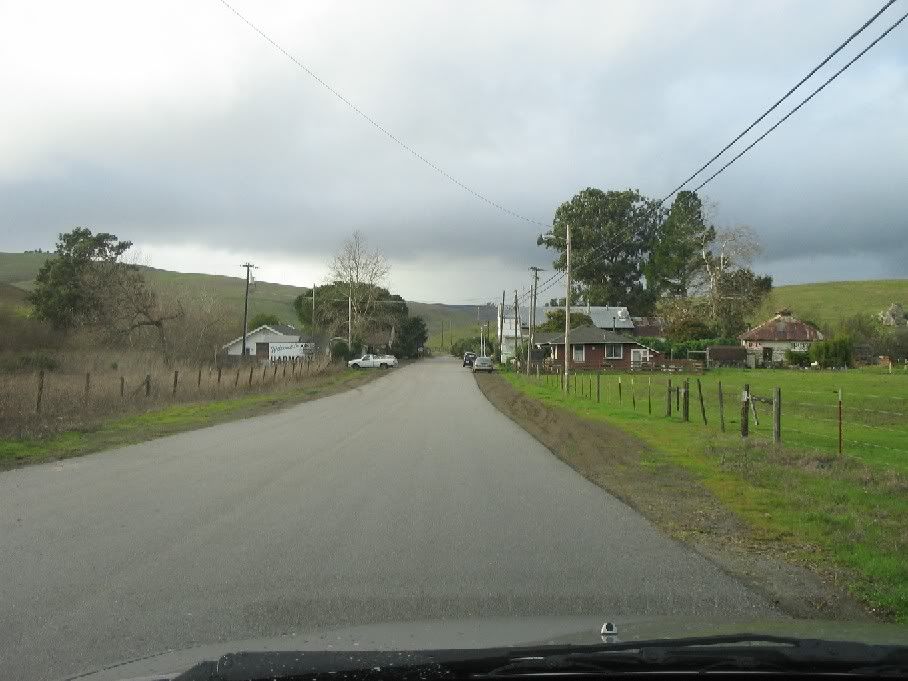 Views of the little cluster of shops, most of which are vacant: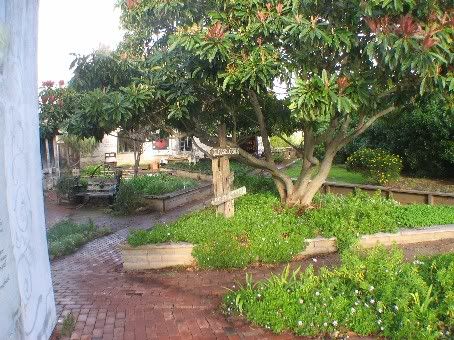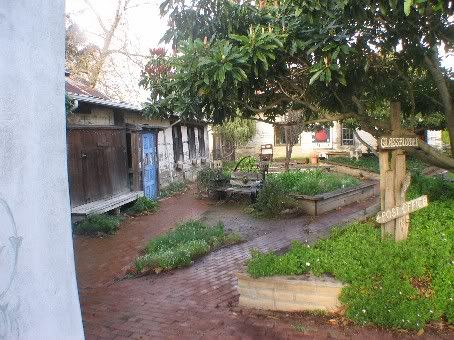 Yet closer to home, from Cayucos is this view of Morro Rock (faintly):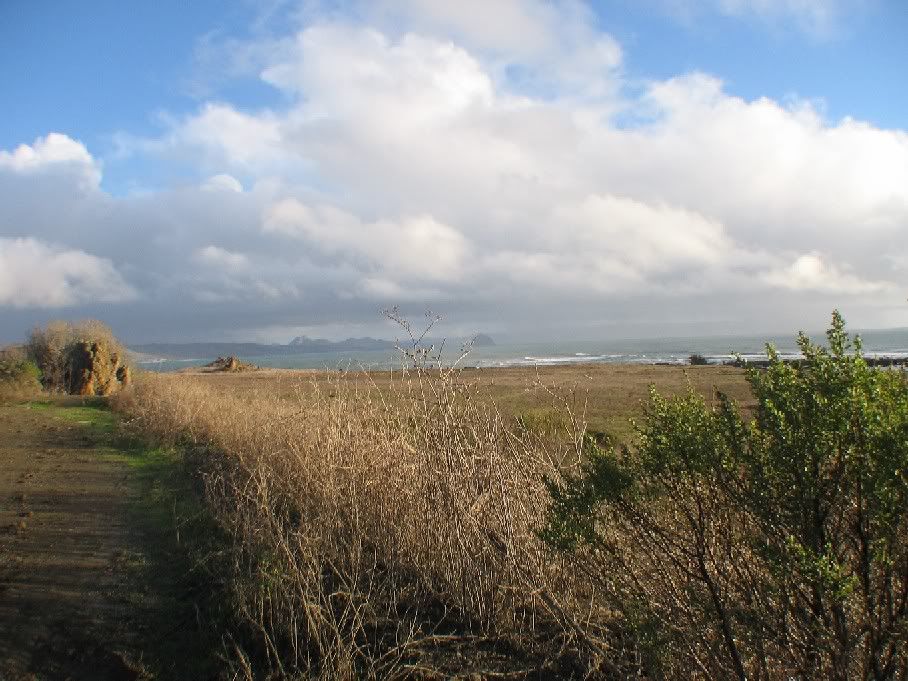 And so home, to bed, as Samuel Pepys liked to write. But actually I had some dinner, watched television, then tucked into my warm bed with my cold feet and slept well, for me.