The Honeymoon Cafe is a funky little restaurant in Pismo Beach, on the main drag, Price Street,near the freeway. It is a hodgepodge of surf, hippie, and perhaps artist-in-residence. There are various pieces of carved wood in the place, generally suggestive in nature. Phyllis and I had lunch there today.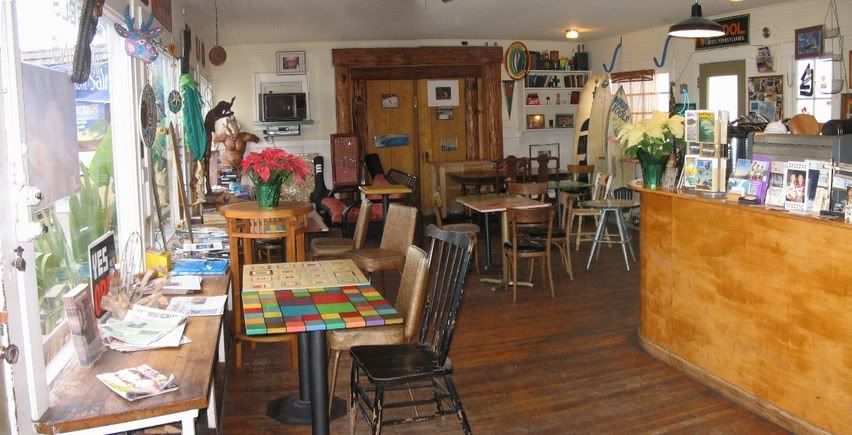 We ate at that table on the right, at the rear. It faces the double doors at the rear, doors that, I am sure, do not open.

The cafe features coffee drinks, fresh salads, sandwiches,and breakfast specials, that sort of thing. It apparently attracts the surfers and friends of surfers. Those cards on the counter (right front) are all surf cards. People do play games, read magazines, and generally have a proprietary attitude toward the place. I don't know if these people are friends with the owner or if they are part owners or what, but I am often seeing them yelling at the guy at the counter (always the same guy) or going behind the counter to get whatever they want. It's almost like a family home where strangers can come in if they want.

There are interesting details. The deer head.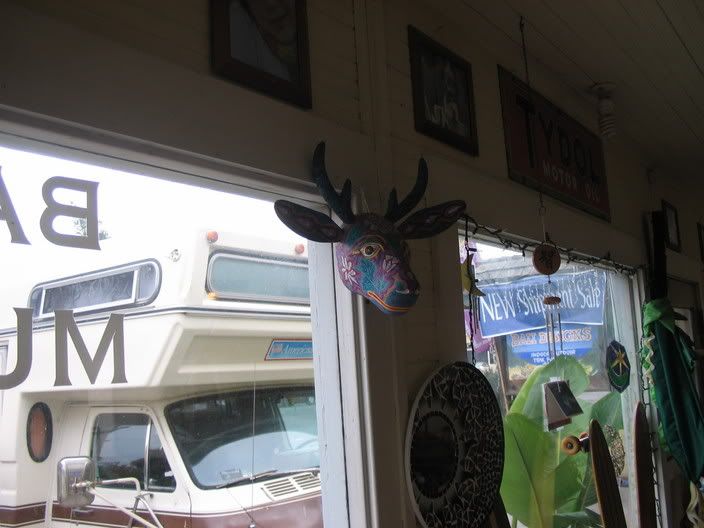 The iguana.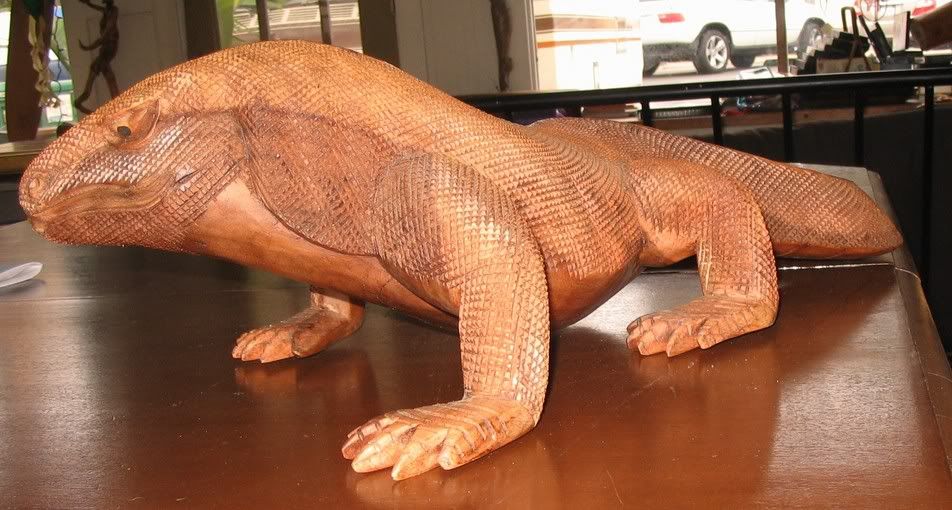 This little darling was on the table with us. I took such a liking to him that I wanted to take him home. Can you imagine how great he'd be in the living room or bedroom or just about anywhere? Bathroom?

I had a veggie sandwich and Phyllis had a salad, full of bright red tomatoes, the kind of red I usually only see on vine-ripened and probably organic tomatoes. We were talking and were about halfway through our late lunch when the owner came over to us.

"Can I ask you ladies a favor?" He asked, touching me on the shoulder. He's a little guy, completely harmless and always friendly. "I'm going surfing. When you leave can you close the door behind you? It's already locked, so it will lock behind you."

"Sure," I said, "but how do I pay you?" He waved at me dismissively, "Catch me later," and left us there alone with his treasures.

We spent another fifteen or twenty minutes there, chatting, until I started to worry that we might find ourselves making sandwiches for customers behind the counter if we weren't careful.