Yesterday I had cause to remember why I usually plan to leave the day after a popular weekend, or, for that matter, the Monday after any weekend. I-15 can get very busy on any weekend, but particularly after major holidays like Thanksgiving. Other roads can get busy as well but I worry most about I-15 and its contingent of Los Angeles residents heading home on Sunday.

I had to say good by and good by again to Mary and to Elaine yesterday morning, and so frittered away the entire morning. I left town at about noon. And as soon as I hit I-15 I was in bumper-to-bumper traffic. This traffic crush continued all the way to Primm, more than 40 miles. Then it freed a little, only to reconvene as I approached Baker. The roads into Baker were also bumper-to-bumper, but I had stopped at the rest stop about 25 miles ahead of Baker so I didn't desperately need to stop there.

At the rest stop, of course, were tons of people. The women's room had a long line, while the men's room had at most one person waiting. I noticed that in the women's line were all the children and I saw no children with the men. Some things take a long time to change.

I sent little text messages now and then to Mary and Elaine, to let them know that things were bad. I also listened gratefully to an audio book on CD - unabridged - a suspense novel that kept my interest even while it had a way of irritating me with its predictable characters and actions and its annoying prejudicial comments about vegetarians and followers of Pritikin (which subjects came up somewhat incidentally). Shortly after I passed Baker, very very slowly, my right leg in particular began cramping. The cruise control does not work at low speeds. I called Elaine to ask her to check Hotels.com, to see if there was any place in Tehachapi where I might stay, that had internet access, and a little later I pulled off the road. I got out to stretch my legs and feet until I felt I could get back into the mess. Elaine had found a hotel but hotels.com did not guarantee a room was available. I had to call them. I decided to wait a bit, call when I got to Barstow.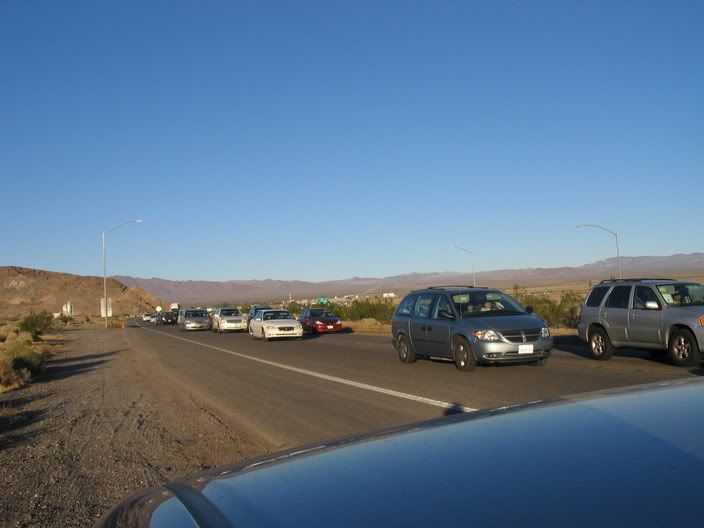 The traffic eased after Baker, for a while, until we got close to Barstow. I choked my way through Barstow, choosing an exit I thought might be good for food and phone, and found that everyone had the same thought. So many people at all of the restaurants that it made me tired just to look at them. I chose an almost-empty restaurant that advertised donuts and chinese food. Good enough, I thought. But when I got inside and looked hungrily at the bins of Chinese food in the buffet, I saw a sign: Cash only. I didn't have any cash. So I hoofed it to a nearby Starbucks to use the bathroom and peruse the food - no good - and got back in the car.

I had figured that once I was clear of I-15 traffic would not be so bad. I was wrong. It was bumper-to-bumper on CA-58 most of the time from Barstow to Kramer's Junction, and this distance took over two hours. From there, though, it was as if the cars vanished. I was able to speed on to Mojave, where I sought rest. I reached the Motel 6 there at about 9:30 at night, already on Disk 7 out of 8 of the audio book.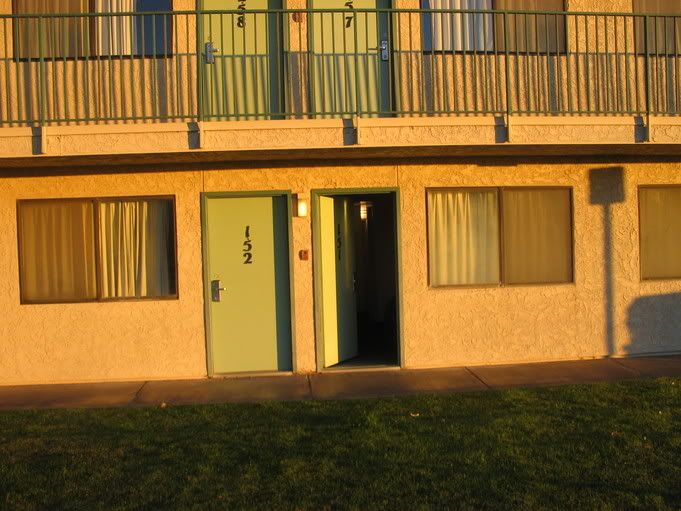 I am amazed that I was never really too tired to drive, even though I was in considerable pain part of the time, and I was very lucky that I did not find myself in the impossible traffic needing a bathroom or gasoline.

The Motel 6 room was clean and warm and inviting. I found food across the street at a funny local burger-and-everything joint that was ready to close, and I watched television until I felt I could shake off the drive and sleep.

I slept fairly well, considering there were several train crossings during the night, not so far away, and considering I had a little trouble getting my body comfortable, particularly my legs. It was a good motel 6 and the price was good and I was happy there!

And to wake up to the cool, clear morning...drive through the windmill-dotted hills in the early light...so beautiful, as beautiful as I have ever seen it.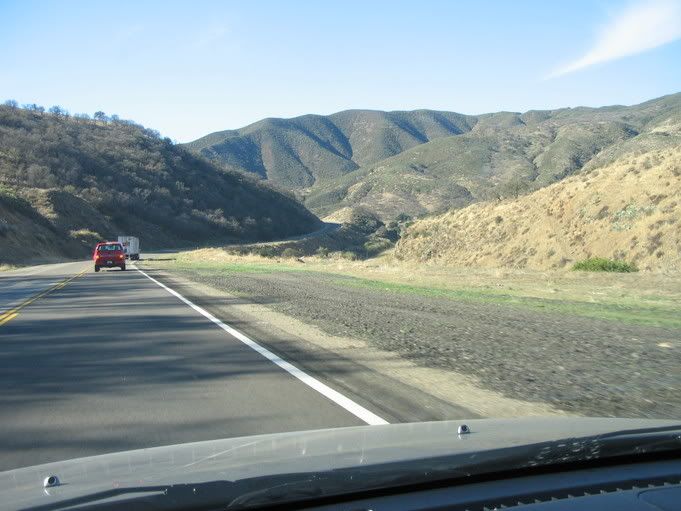 The entire trip home was beautiful, or at least interesting. In Arvin I stopped at something called a Ranch Market, hoping for something that would not upset my stomach further, and found a full-on Mexican market. People were lined up in the bakery section, there were all the makings for tortillas and every bean dish possible, there were bundles of cinnamon sticks (I bought one bundle - at $6.99 per pound I couldnt' resist), and everything anyone could possibly want to make authentic Mexican food. Rather too meaty for my taste, of course, but I enjoyed it anyway, and emerged with a little rice pudding cup and a small wooden guitar which will be a Christmas gift for the boy. Outiside the market is a van - labeled "free shuttle". The market offers a free ride to anyone who will spend a minimum of $25 at the store. What a great idea!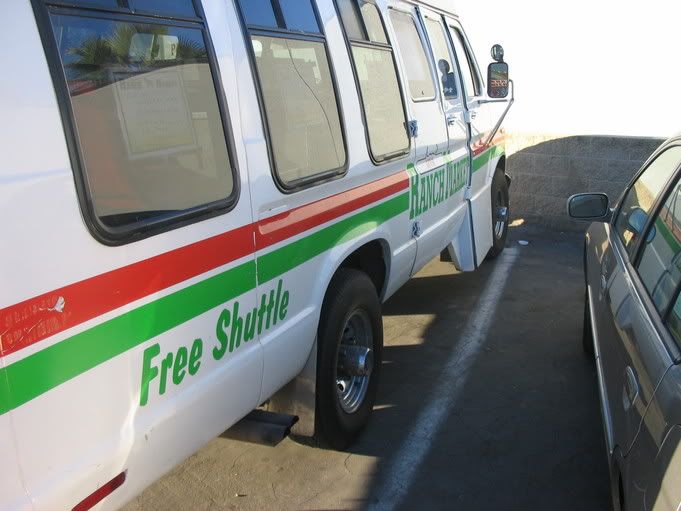 It wasn't long before I was on CA-166, which was also beautiful beautiful. I thought about pulling off to take pictures but I didn't. I did stop in New Cuyama, first at the park where I usually use the bathroom and where I met another middle-aged woman, from Los Osos, headed for Bakersfield. Who also schedules stops at that particular bathroom.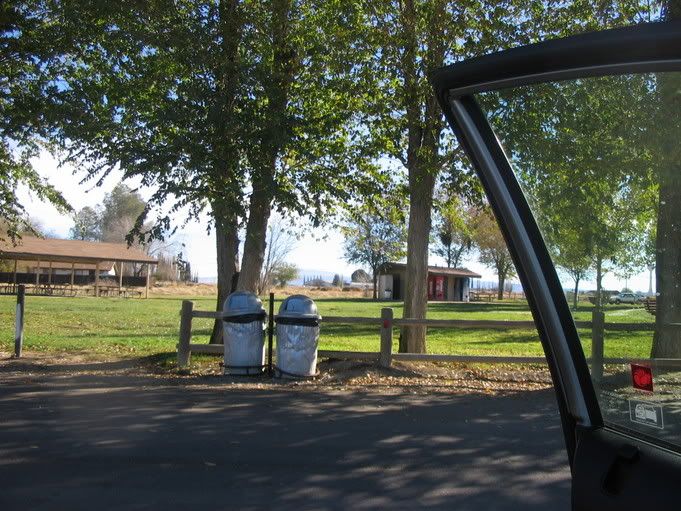 After that, I stopped at the main store there, which is a kick just to see. It is one of those all-in-one stores. Groceries, toys, video rentals, deli, all in one rather small space, and with a bathroom at the top of steep steps, which I also used, my stomach still being touchy. I bought a six-pack of Schweppe's ginger ale, small bottles, a large bottle of water, and a nutrigrain bar. I took the picture because I wonder how long this store will survive.





I reached the end of 166, headed north on 101, stopped at Carl's Jr for the bathroom, and began to dream of soup. Some kind of simple soup. I made it home at about 11:30 this morning, and I haven't yet had any soup.