The final activity for Friday was a visit to the Garcia house. This is the house that was "blown up" in Lethal Weapon 2". I got cute with the pic I took last night: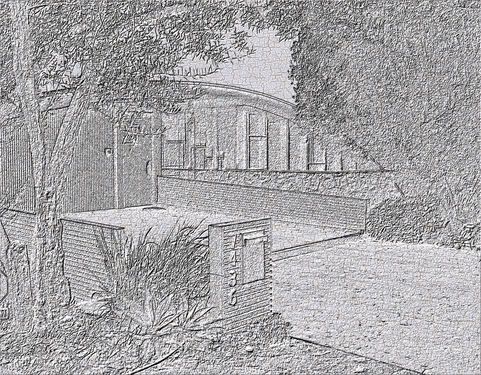 It was getting dark and it was foggy, so the pix were not wonderful. It doesn't matter; there will be other times. It looks great - light, airy, constantly changing with the light, alive. We spent about forty-five minutes there, seeing the changes since the last visit and taking a few photos. The owner, John, offered wine but I declined. I had a drive ahead.

I am working on changes to the web page on this house so that I can get it up to date. But like so many others it's not getting done. Not going to get done today either.

After that visit, Dorothy and I bowed out, leaving Karol, Chris, and Louis chatting with John. Karol said that she, Chris and Louis left about a half-hour later. Dorothy and I headed north on 101. I was fine most of the way. It was only as I approached SLO that I started getting quite fuzzy. I made it home all right, though, and fell into bed. Today I am simply recovering. That's the thing: I feel good about accomplishing so much in two days but then it takes me another day to get over it.